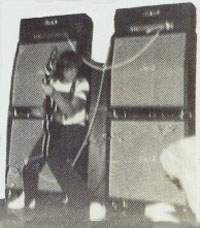 Ray's show ending "freak out" circa 1970, an often anticipated and encouraged bit, which if it weren't for great roadies, would have surely ended up with the amps on the floor. (Mark, Joe, Phil, Vince, you guys were the best!)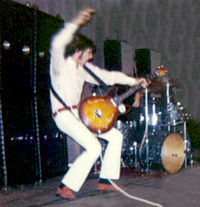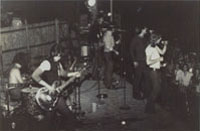 The Damnation of Adam Blessing looking mean and lean, perform at a Detroit music fest, August 1972, shortly after Ken Constable became a touring member of the band.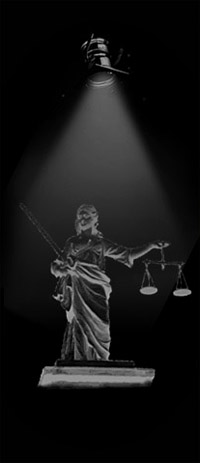 Ray in Key West, tweaking "Illusions of Justice" 2005.

Illusions of Justice,
©2005 Ray Benich
all rights secured

(where appropriate, names have been changed).

Editor's Note: Sections that appear highlighted are Damnation Moments- flashbacks to the Damnation of Adam Blessing.
When I was 18 years old I recorded my first album with the Damnation of Adam Blessing, for United Artist records. From 1969 to 1973 the group would record four albums in all. Being a part of the Cleveland music scene in the late 60's and early 70's when groups like the James Gang, Eric Carmen of the Raspberries, Benjamin Orr, later of the Cars, were all local artists, provided an incredibly fertile environment in which a young band could develop. For several years Damnation's records were regionally successful, with their singles and albums often going top 5 in Cleveland, and other parts of the mid-west. The major hindrance that kept the group from breaking nationally was a distribution problem with United Artists.

In 1972 while playing at a club in Ft. Lauderdale, I met and fell in love with a dark haired beauty from Delaware, named Sarah Lindqist. For some inexplicable reason, as I sit here in my prison cell our first meeting gently rolls across my mind. After our last set of the night around 4 am, as the night owls drift their separate ways, I saw Sarah standing on the dance floor talking to her girl friend. I approached her from behind, and without saying a word, I gently placed my hands on her hips and drew her body next to mine. As the contours of our bodies met I could feel the energy flow. For a few seconds she hesitated, then turned to me and said, "do you always introduce yourself like that"? Sheepishly I confessed, "no, I'm sorry, you just looked soooo beautiful, I lost control."

When Sarah came to Cleveland, several weeks later (having phoned from Lauderdale to say, "I'm on my way to New York, on a fashion assignment, I was wondering if I could stop over in Cleveland, to see you"?) It was inevitable that this situation would be viewed in a dim light by my first wife Sue. Sue and her family hated my career and almost everything it brought me into contact with, other than the money. They tried their best to talk me into giving up music and going to work for her father, who was an executive at the Ford plant in Cleveland. This very issue had a great deal to do with exactly why I was "playing around" on Sue. When I met Sarah I was in fact looking for a friend, a lover that would accept me for what I was. When both girls started showing up at the bands gigs in the Cleveland, area, it presented some very sensitive situations, that the other band members found quite amusing.

The first clue that a less intoxicated, (stoned), right-thinking person might well have noticed to indicate that Sarah had a serious problem with honesty was, that there never was any modeling assignment in New York City. And that she paid her motel bill, (yes, she was staying in a motel while I lived with Sue), with a bad check.
continue to page 2 of Illusions Of Justice.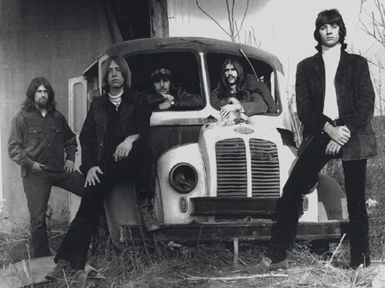 A short note on Existentialism: In this rare 1969 photo taken by legendary rock photographer George Shuba, it's obvious that "existence precedes essence". Left to right, Bill Schwark, Adam Blessing, Jim Quinn, (just sixteen at the time), Bob Kalamasz, and Ray Benich. (With our first equipment van.)