Ray in his office at S.C.I. as the Chaplin's assistant (a much sought-after position), April 1992.

  †††††††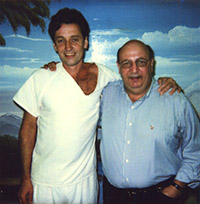 Damnation of Adam Blessing guitarist Jim Quinn visits Ray at the Delaware Correctional Center, two months before his release, August 1999.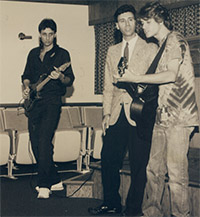 Ray backs up "Chicken Soup For The Prisoner's Soul" author Tom Lagana, and his son Brandon. Brandon's story in the above book titled, "The Gift Of Music" was written about how Ray affected him this very night at Gander Hill Prison, Wilmington, DE May 25, 1993.
Click here to read the story.
VIDEOS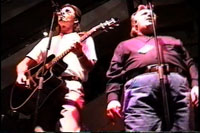 Spirit From Above,
by Ray Benich ©2000
Recorded live at the Rock N' Roll Hall of Fame September 27, 2000. This song was written in my prison cell in the 18th year of my incarceration. I immediately loved the song, and in frustration with my situation, wondered if it would ever be heard outside of those four walls. Little did I know at that anxiety filled moment, that in less than one year I'd be performing it at the Rock N' Roll Hall of Fame. With great backing vocals by the Constable brothers, this cut also features session keyboard man Rich Spina with an incredible part he wrote just day's before the gig.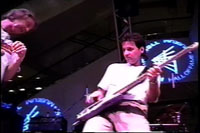 You Don't Love Me,
by W. Cobbs
This blues standard, which Damnation covered on their 1969 self titled debut album, features tight vocal harmonies by the Constable brothers, and some great guitar work by Bob Kalamasz. Played here at the Rock Hall for the first public performance in 28 years by all the original members of the Damnaton of Adam Blessing, it also features Rich Spina on keyboards.
Follow us on Twitter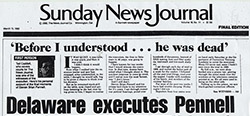 (used with permission from the Wilmington News Journal)
zoom in to read

From, "Illusions of Justice" by Ray Benich copyright 2005 all rights reserved
Chapter VI Abyss of Infamy

I don't know how many of you have had the opportunity, (if you want to call it that), to pray with a serial killer the night before his execution, well I have. On March 14, 1992 Delaware serial killer Stephen Pennell was executed by lethal injection in the death chamber at the Delaware Correctional Center in Smyrna, Delaware. What was quite unique about Pennell's execution was that he, himself, could have stopped it at anytime, by just giving the word. That is because he voluntarily "waived" his rights to the appeals process. Having personally appeared before the Delaware Supreme Court requesting that the court grant him the right to "waive" the appeals process, and proceed with the execution, Pennell himself could have stopped the execution at anytime, by simply saying that he had decided to fight on.

His wish to "waive" his right to the appeals process came about quite suddenly after a Saturday "visit" with his wife, who although she had stood by him throughout the trial, shortly afterwards announced that she was leaving him. Upon his return to the tier (prison housing unit) after this visit, he personally told me so. Originally, after his conviction for the torture, and murder of several women whom were alleged to have been prostitutes, he intended to assist in his own legal defense in the appeals process. I had lent him my law dictionary, as well as several post conviction relief manuals. He was all fired up about the possibilities of getting more "press", and now that he was representing himself, he would in his mind, be the real star of the show. Having lived with Stephen Pennell, that is having been housed in the same prison unit with him throughout his trial, I got to know him, that is observe his behaviors that were,in fact quite revealing. He would lie in his bunk and sleep well past noon, until someone would come to his cell to tell him, "Stehpen, you're on the front page of the News Journal, there's a big story about you in the morning paper!" Then he'd jump up, and get all excited, get a cup of coffee, light up a cigarette and get on the phone. I recall one incident in particular, in the prison yard, (actually, a concrete box with an open roof surrounded by walls 30 feet high), when he screamed at me about how famous he was, and how "I get mail from all over the world!" He got really angry when I responded, "you're a local yokel, you're known in the region, I have family in Ohio, Texas, and California, that have never even heard of you." "Have you ever seen a story about your case on "60 Minutes" or the "CBS Evening News?" In a quieter moment he actually explained to me how after the first "incident" as he called it, he was scared, but when he read about his act, and especially after he became a high profile suspect in the local media, as his eyes lit up just explaining it to me, I could see, in his own sick mind, he had become a legend. Serial killer Stephen Pennell, he actually liked the ring of it, the way it sounded rolling of the lips of some pretty young news anchor excited him. As we would sit in what's called the prison "day room" watching the local news, when the lead story was about him, his evil heart would delight, he'd seem genuinely gratified.

This type of behavior became especially irritating to me, on a deeply personal level in mid 1991 when I received word that my own little sister Elaine Johnson, had disappeared, presumably been abducted in a suburb of Cleveland, named Parma. Although several suspects were questioned, she had never been found. As I'd observe Stephen Pennell's grandiose narcissism, day after day, I'd wonder, did my little sister meet up with someone like Stephen? In my minds eye I started to entertain thoughts of "getting even". I thought, in some dark recess of emotion, I can't get the person that killed my sister, but I sure can get Stephen Pennell! Recognizing in reality how dangerous a thought this really was, I put in a formal request to the corrections staff to be transferred to some other prison, away from Pennell. A short time later I was in fact transferred to the Sussex Correctional Institution some hundred miles south of Wilmington's Gander Hill Prison.

About one week after my transfer, Stephen Pennell was placed in the cell immediately next door to mine. I thought to myself, well now, I guess this is something I'm going to have to learn to live with. It's at moments like these, in prison, when one really finds out if your "Faith" is genuine or not. At S.C.I., I was appointed the Chaplin's assistant, (a much sought after position). Part of my duties were to accompany the Chaplin on his rounds. The Chaplin and I went to see Stephen just hours before his execution. We prayed with Stephen, and the last thing I ever told him was, Stephen if you actually have the balls to go through with this, if you walk into that death chamber on your own free will... I'm going to write a song about you. He broke out in a huge smile, and said, "you promise?" I looked him in those dark, empty, cold eyes of his and gave my most solemn promise. I guarantee, that if you go through with this, I will write a song about you, and see that one day it's heard publicly. It was then, for the first time, that I saw in those cold dark eyes, Pennell's own personal "Abyss of Infamy".
********
Continue to next page
for lyrics, images and audio samples of Abyss Of Infamy, the song.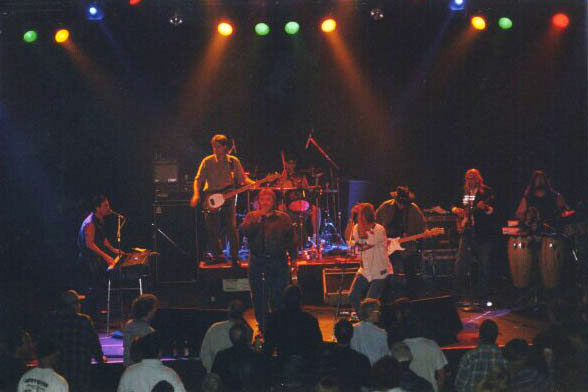 At the Odeon, left to right: Rich Spina*, Ray Benich, Ken Constable, Bill Earle, Adam Blessing, Jim Quinn, Bob Kalamazs, and Josh Cockran*.
(*Not original members of the band)